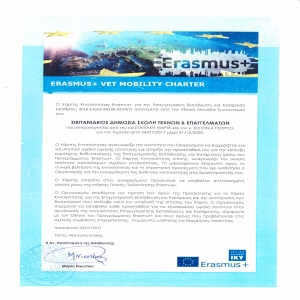 RECEIVING THE ERASMUS MOBILITY CHARTER IN THE SIBITANIDIS SCHOOL
Since January 2017, the mobility map of the ERASMUS + program has been awarded to the Sivitanidios School.
ERASMUS + is addressed to more than 15,000 European Educational Organizations. The mobility map of the program recognizes the ability of an organization to manage and implement high-quality projects and supports the organization's efforts to achieve wider internationalization of its VET programs.
The mobility map is only awarded to organizations that recognize the high quality of the already implemented mobility projects. Of the more than 15,000 Learning Organizations participating in the ERASMUS + program, only 100 have been awarded the mobility map, of which 100 are only 9 Greek, and the Sivitanides School is among them.