One of the most promising events, was the opportunity to attend to those found on Tuesday 5/3/2019 at 12:00 noon at Sivitanidios Public School of Arts & Crafts Board of Directors hall. Students, parents and teachers, Sivitanidios General Director Mrs Kalantzi, as well as the President of Sivitanidios Executive Committee Mr. Kotonias, gave a dynamic presence to the event for awarding the "GreenVET4SDG" KA2 ERASMUS project Best Logo, in which Sivitanidios participates as a partner.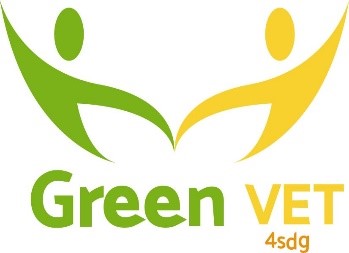 The competition has been an initiative of the teachers involved in the project that began in October 2018, with a view to highlight and support the potential and talents of Technical & Vocational Education and Training students, while linking classroom's outputs with the labor market where students will be called upon to cooperate and keep up to meet today's challenges.
Winner of the competition was Alexander Sviros, a student of Sivitanidios Institute of Vocational Training. Alexander designed two logos for the project and voted first amongst sixteen entries out of four countries. His logo will now be used in all documents, forms, communications and deliverables of the specific project.
Given that the participation of students in such programs and competitions contributes to their creativity, especially in modern digital products, while constitutes a promising fact to all students involved and distinguished in them, at the initiative of the project manager and Sivitanidios General Management, all Sivitanidios students participated in the competition were awarded.